Fuvahmulah diving with tiger sharks
Tiger Sharks (all year around, 100% guarantee)
One of the main attractions which makes Fuvahmulah such a worldwide sought after site for the diving community are tiger sharks. Regardless of currents, season, time or weather conditions, you'll be able to see our resident tiger sharks everyday.

Thresher shark diving in Maldives
Thresher Sharks (all year around) 
Fuvahmulah house reef has many cleaning stations where thresher sharks as well as other sharks come to clean themselves. Some stations are about 40 meters deep. However, in Fuvahmulah when conditions are right, thresher sharks come up to cleaning stations at 12-15 meters. This occurrence is generally during the high tide, and we occasionally see them jumping out of the water as well. The chances of seeing threshers any time of the year is very high.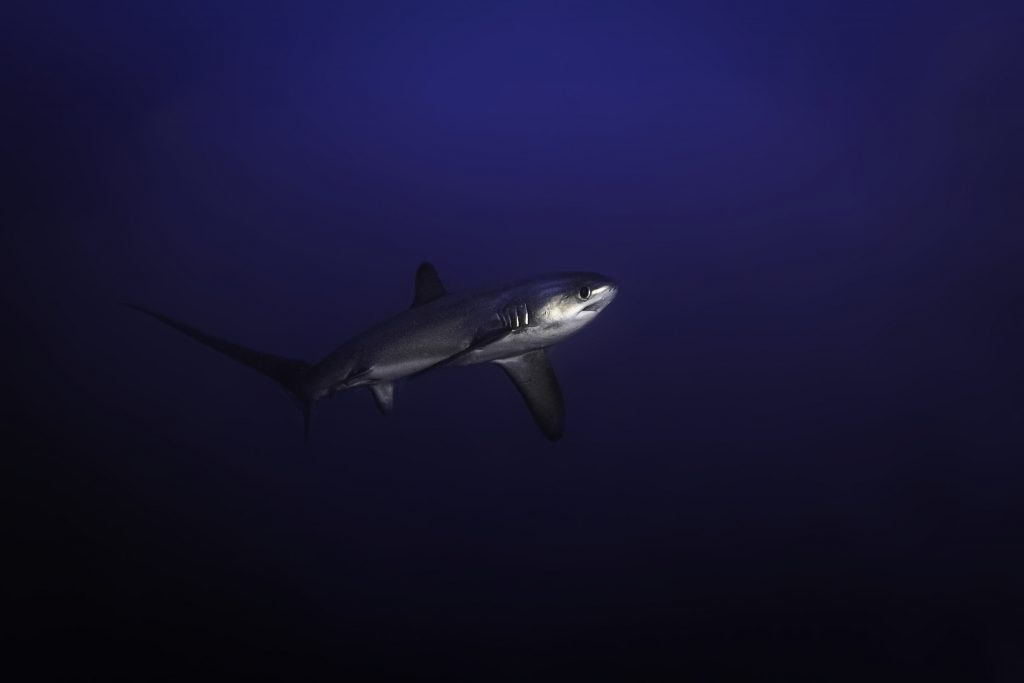 Diving in Maldives with whale sharks
Whale Sharks (January to May)
Sightings of whale sharks in Fuvahmulah is possible all year round. However, chances of seeing them is higher between January to May. We will often see adult females about 10 to 12 meters with whale shark pups during this period as well.

Hammerhead shark diving in Fuvahmulah
Scalloped Hammerhead Shark (October to April)
The highest probability to see schools of scalloped hammerheads in Fuvahmulah is between October and April. The optimal conditions are in the new moon and full moon with the right current.
Maldives shark diving in Fuvahmulah
Silver Tip Shark (all year around)
Silver tip sharks are my favourite sharks. Throughout the year we encounter schools around the island, especially in the tiger harbour. Sometimes we see hundreds of them feeding with tiger sharks.
Fuvahmulah dive sites, Oceanic Mantas
Oceanic Manta Rays (March to May)
The black oceanic manta (Manta Morph) are one of the more elusive pelagic species in the Indian Ocean. Despite that, divers are able to encounter these majestic creatures in Fuvahmulah. As a matter of fact, 90% of black oceanic manta sightings in the Maldives are in Fuvahmulah. It is in the last few years, schools of oceanic mantas make their way to Fuvahmulah to mate, clean and feed between March to May. There is a lot to learn regarding their behaviour and sightings around the island but definitely, this is the best place in the world to see them.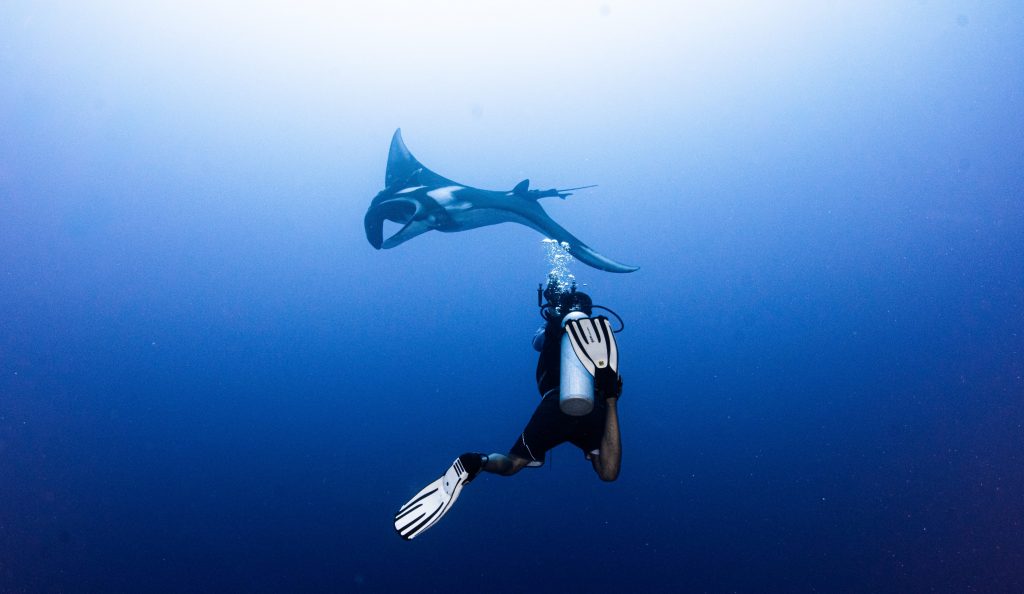 Other pelagic scuba diving in Maldives
Grey reef and white tip reef sharks (all year around)
Both hundreds of grey reef and white tip reef sharks cruise around the island all year around. We see them almost everyday. Nevertheless, one of the most remarkable things that you can see are baby white tips sleeping inside little reef overhangs.

Therefore the best season to visit Fuvahmulah is between January to April simply because of all the pelagic species you can dive with and the best visibility you will experience.
Follow us on Instagram for amazing videos and photos.
Frequently Asked Questions
When is the best season to come diving in Fuvahmulah?
The best season to come diving in Fuvahmulah is generally from January to April as that is the period with the best water visibility of up to 60 meters.
Is it the rainy season if I come scuba diving in Maldives during the middle of the year?
It is not the typical rainy season if divers come scuba diving in Maldives during the middle of the year. Like other tropical countries, there may be some rain that passes by but diving will still continue.
What is the best time to visit Fuvahmulah for tiger shark diving?
Tiger sharks are sighted all year round so any time is the best time to visit Fuvahmulah for tiger shark diving. Encounters with thresher sharks are best between October to December but they can also be sightings throughout the year. Schooling scalloped hammerhead sharks are also between October to December as the thermocline is at a shallower depth. Whale sharks and oceanic mantas usually come through Fuvahmulah between January and April.