Are you a diving enthusiast? Then you must dive in Maldives, in particular in Fuvahmulah! Not only does it still have one of the richest underwater biodiversity in the world but it is also one of the most beautiful. We want you to experience the magic of Fuvahmulah, and so have provided a guide on the best time to go scuba diving along with domestic flight times and how to plan your trip. Keen to start your dive in Maldives? Let's get into it!
Fuvahmulah Overview
When it comes to the hotspot for the ultimate dive in Maldives experience, you have to mention the ever-popular Fuvahmulah island situated south of the Maldives. Fuvahmulah has a population of around 12,000 people and is known for its traditional culture and way of life, a stark contrast to the modern lifestyle of the capital city of Malé. Fishing, agriculture and tourism predominantly make up the economy of Fuvahmulah.
So you are probably wondering when is the best time to go diving in Fuvahmulah? Diving is good all year round, so it will depend on what pelagic species you would like to see. The water temperature can range anywhere between 27°C – 30°C but can drop down to 25°C in deeper waters.
Scalloped Hammerhead Shark Diving in Fuvahmulah
If you are keen to spot the incredible schools of scalloped hammerhead sharks, we highly recommend coming to dive between late September to end December. This is the period where the thermocline rises closer to the reef and we believe this is the reason why it is easier to encounter these scalloped hammerhead sharks. Sightings of individual scalloped hammerhead sharks are possible throughout the year but not often.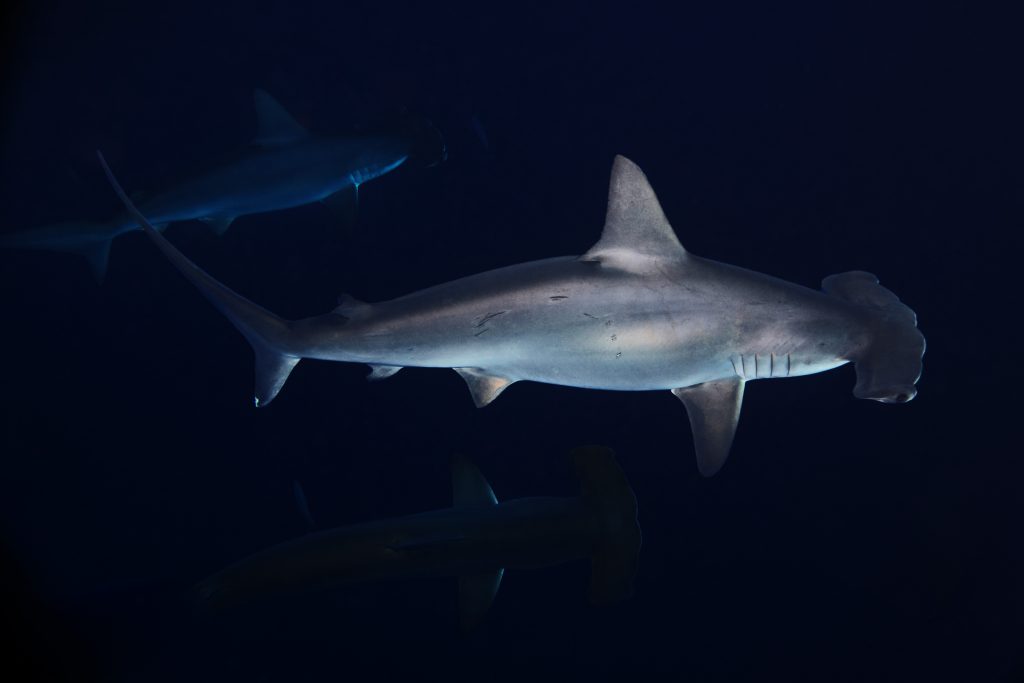 Scuba Diving in Fuvahmulah with Thresher Sharks
We also recommend diving in Fuvahmulah between September to December if you wish to have sightings of the elusive thresher sharks. It is for the same reason of the thermocline being closer to the reef that makes encounters with thresher sharks easier during this period.
Like the scalloped hammerhead sharks, it is still possible to have sightings of thresher sharks the rest of the year.
Encounters with Oceanic Mantas and Whale Sharks in Fuvahmulah
Scuba diving in Fuvahmulah with oceanic mantas and whale sharks are possible. Whale shark watching and sightings are throughout the year but are more frequent between January and May. These docile giants are in fact known for their friendly disposition and are perfectly harmless to humans. Diving alongside these gentle giants at Fuvahmulah dives sites is an experience of a lifetime for a diver. The southernmost region of Maldives have only recently identified a large population of oceanic mantas. They appear to be highly transient and rarely re-sighted with individuals spending only short periods of time near the reef.
Tiger Shark Diving in Fuvahmulah
There have been occasional sightings of tiger sharks across some atoll in the Maldives. However, it is only Fuvahmulah that guarantees encounters throughout the year when tiger shark diving in Maldives. Tiger sharks are naturally curious and may be drawn towards divers. It's an exhilarating shark diving Fuvahmulah experience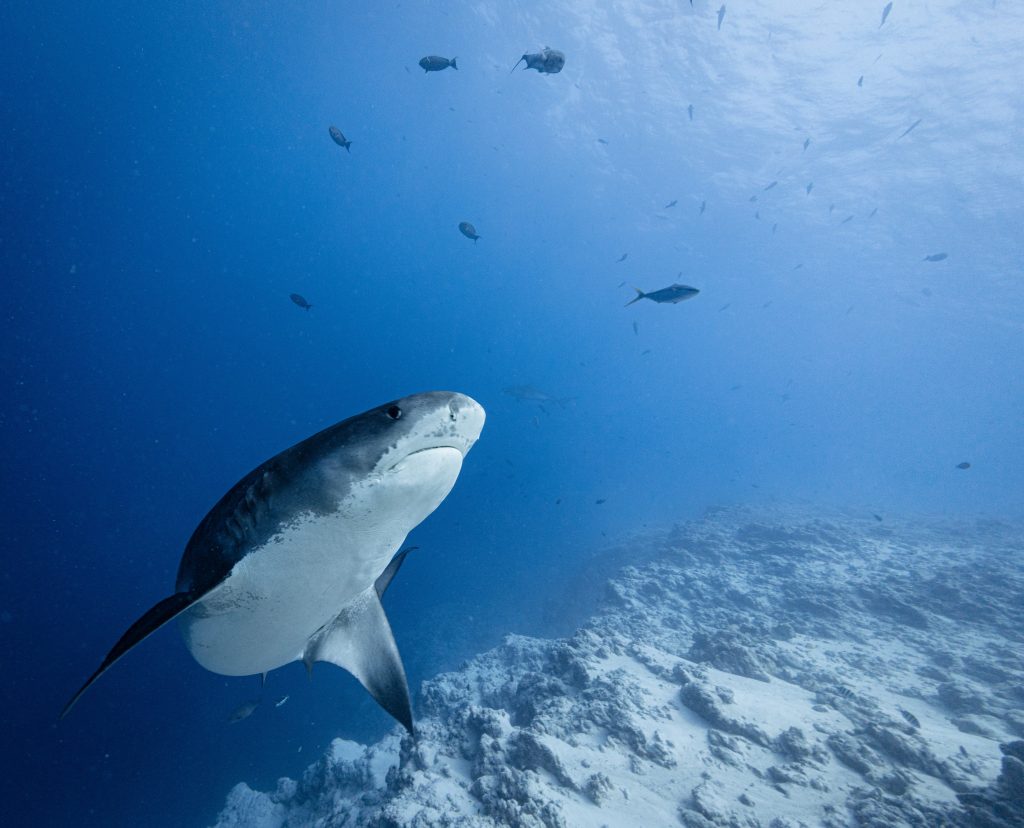 Scuba Diving With Sharks in Fuvahmulah
You are not short of options when it comes to scuba diving with sharks as there are a variety of Fuvahmulah dive sites where you can experience. These include the following:
Tiger Harbour
Depth: 10m or 33ft
Recommended level: Open water and above
Featured creatures: Tiger sharks and Silvertip sharks
Best time: All year round
Farikede
Depth: 30m+ or 100ft
Recommended level: Advanced and above
Featured creatures: Tiger sharks, Silvertip sharks, Thresher sharks, etc.
Best time: November to May
Thundi
Depth: 30m+ or 100ft
Recommended level: Advanced and above
Featured creatures: Thresher sharks, Whale sharks, Oceanic mantas, etc.
Best time: All year round
We offer a special tiger shark diving course you can take which is an absolute must for those who are both shark and diving fanatics. You can find more information on that dive in Maldives experience here.
Domestic Flight Times
There are daily flights between Male and Fuvamulah with a duration of 1.5 hours. However, the domestic airline may schedule flights with a stopover, in which case the flight duration may take up to 2 hours.
We usually suggest guests to have at least 3 – 4 hours gap between international and domestic flight times to allow for these stopovers, get through Immigration, baggage claim and head to the next flight check in.
Please note that flight schedules are always subject to change so please check for the latest flight details!
Planning Your Trip
Now that you have an idea of the latest flight details, you can proceed with how to plan your dive in the Maldives. Depending on the flight you take, there is a high chance that you will not be doing a dive in Maldives on the same day as your flight as the dive would likely have ended by the time the flight lands. Diving can be done the following day!
Please note that on the day of departure to Malé, depending on the flight you take, it will have an effect on the number of dives done the previous day. There needs to be between 18 to 24 hours of land time for scuba divers before the flight.
To experience the ultimate dive in Maldives, we schedule our dives around the Tiger Shark dive time slot that are assigned to each dive center. Each dive centre is given a 30-minute time slot that differs daily. Therefore, daily dive times can vary and we are only able to confirm our dive timings the evening of the day before. To give you an idea of the general dive times:
07:00 am – The first dive starts
10:30 am – The second dive starts
12:30 am – The third dive starts
Please note that diving for the day typically ends around 2:30 pm.
Conclusion
So there you have it, the time for you to dive in Maldives is now! Fuvahmulah is an absolute must for you to go to experience one of the best diving sites in the world. There are plenty of flight options to choose from. Get in touch with our team today and start planning your diving adventure in Fuvahmulah.
Frequently Asked Questions
Can I start scuba diving in Fuvahmulah the same day I arrive?
No, you would not be able to start scuba diving in Fuvahmulah on the same day you arrive. By the time the first domestic flight lands in Fuvahmulah, diving times for the day would have ended. Your first diving day would start the next day.
When is the best time to scuba dive in Fuvahmulah?
The best time to scuba dive in Fuvahmulah is depending on what pelagic species you would like to see. March and April usually has the best water visibility, about 40-50 meters but it is also the peak season in Fuvahmulah with many more divers on the island. During the mid year water visibility is not as good as March and April, around 20 meters but because there are less divers on the island, dives are more private and encounters with pelagics are better.
I want to dive with all the pelagic species possible, which month should I come dive in Fuvahmulah?
You should dive in Fuvahmulah between January to April if you want encounters with whale sharks and oceanic mantas. If you want to dive in Fuvahmulah from late September or early October till December, then you would have sightings of threshers sharks and schooling scalloped hammerhead sharks.Tiger sharks and threshers sharks are seen all year round in Fuvahmulah.
Can I dive on the last day of my Fuvahmulah dive package?
No, you will not be able to dive on your last day of your Fuvahmulah dive package as you would need to take a flight back to Male. Your last diving day would be the day before and the number of dives you are able to do will depend on which domestic flight time you would need to take back to Male. It is mandatory for you to have a minimum of 18 hours on land before a flight.