Tiger Shark Diving Fuvahmulah
One of the many reasons divers have an amazing dive experience is the opportunity to encounter various pelagic species the ocean has to offer. Safe and responsible interactions with these marine life not only creates everlasting memories but a better understanding of these magnificent creatures too.
Fuvahmulah has been gaining popularity as the place for tiger shark diving. The island probably has one of the healthiest populations of tiger sharks, with over 240 identified individuals. Tiger shark diving in Fuvahmulah, is safe in general. However, we are also diving into their environment and territory so there is always a risk, like any other activity that we decide to participate in. It is important to always bear in mind that tiger sharks are apex predators and are naturally curious. Hence, it is paramount that divers remain respectful when in the sharks' domain and in their presence.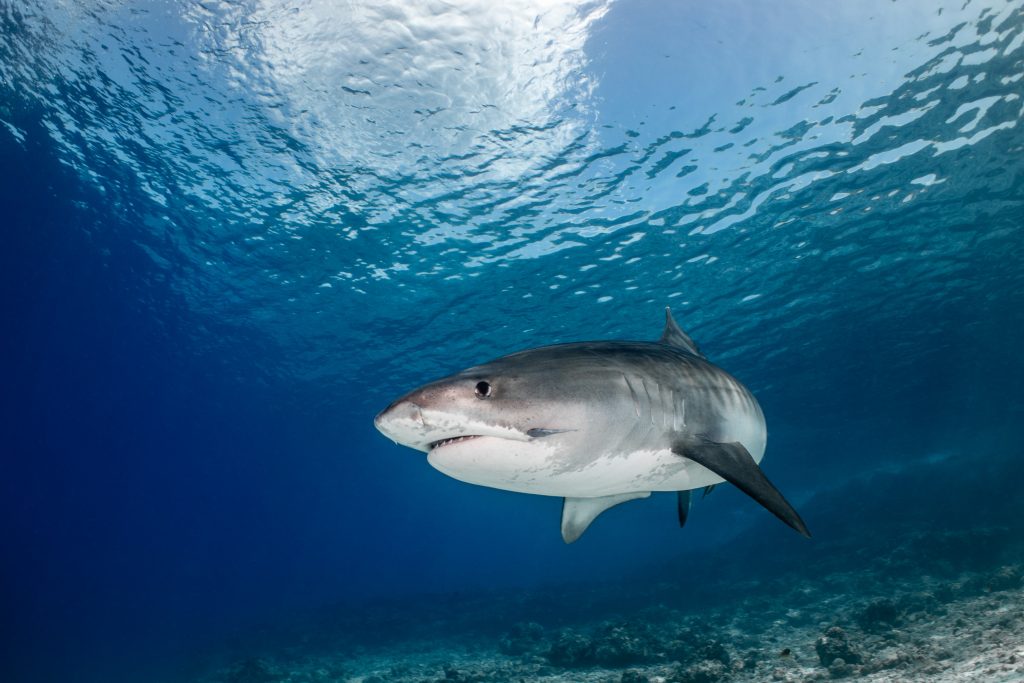 Trained Tiger Shark Diving Fuvahmulah Team
First and foremost, all our dive guides are certified dive masters. Along with our instructors, they have all been trained by professional shark safety experts, Ocean Ramsey & Juan Oliphant of One Ocean Diving. Our team reads, identifies and monitors each sharks' behaviour during each dive. With this in mind, the team has developed signals among each other and with the boat crew on the surface, to communicate and is ready to take precautionary measures, if needed.
Fuvahmulah Shark Diving Safety Procedures and Protocols
Based on our collective dive experience and principles, our team sticks to a set of shark diving safety procedures.
All divers, regardless of dive certification, are required to do a check dive as their first dive with us.
Divers need to be certified before we permit them to join a tiger shark dive.
Dives are a maximum of 12 divers per boat.
We dive with a ratio of 1 guide to 4 divers. Should there be less than 12 divers per boat, we still maintain a minimum of 3 dive guides.
Prior to each divers' first tiger shark dive, it is mandatory for them to go through our in-depth tiger shark safety diving briefing.
The tiger shark safety briefing covers topics such as:
history of tiger sharks in Fuvahmulah
co-existence of tiger sharks with the local community and fishermen
dive plan
what to expect from the tiger sharks
tiger sharks' behaviour
how divers should behave – do's and dont's
resident tiger sharks and other marine life
emergency protocols
conservation efforts
Dive guides will decide to cancel a tiger shark dive should they find that the sea conditions or water visibility is not optimum or if the tiger sharks' behaviour are more agitated than normal.
After a divers first tiger shark dive with us, a debrief is conducted to highlight and share the sharks' behaviour, the divers' behaviour and to bring to attention any issues or things to improve for the next dive.
Should a diver ignore instructions or continuous reminders on how to behave during a tiger shark dive, our guides will disqualify the diver from any further participation in tiger shark dives.
If a diver disregards instructions from our guides when in the water and is jeopardizing the safety of other divers, our guides will immediately end the tiger shark dive.
It is mandatory that all our guides carry a tourniquet with them during all dives. All our guides have been trained how to handle an emergency situation.
Briefing on Tiger Shark Dive Plan
Prior to each tiger shark dive, our guides conduct a dive plan briefing on the boat. A step by step process is shared with divers so that everyone is clear and understands how the dives will be done.
The dive plan:
Although the dive site, Tiger Harbour, is at the mouth of the harbour, divers will be jumping into water at the reef next to the harbour instead of the main dive site for safety reasons.
Upon reaching the dive site, our dive guides will check the water for any nearby sharks from the boat.
The first person that will jump into the water will be the dive guide.
Tiger shark dive is done with a negative entry dive as we do not want divers staying at the surface that may cause splashing and noise, mimicking an injured prey, which may attract tiger sharks.
Once all the divers are in the water, the group will move as a whole to the main dive site.
During this time, there will be one lead guide ahead of the group, minimum one guide in the middle and minimum one guide at the end.
Divers are then arranged in a row at a designated area where minimum two guides will remain with them.
The lead guide will then move to the middle of the dive site in order to signal the boat crew to drop the fish heads.
After the allocated tiger shark dive time has ended, the lead guide will signal to end the dive and indicate the direction that divers need to move to.
Again there will be one lead guide ahead, minimum one guide in the middle and minimum one guide at the end to head back to the reef to do the safety stop.
Once the safety stop is completed, divers will follow two guides to the surface and back onto the boat. One guide will remain at six meters to ensure sharks do not approach from below. This guide will be the last to exit the water.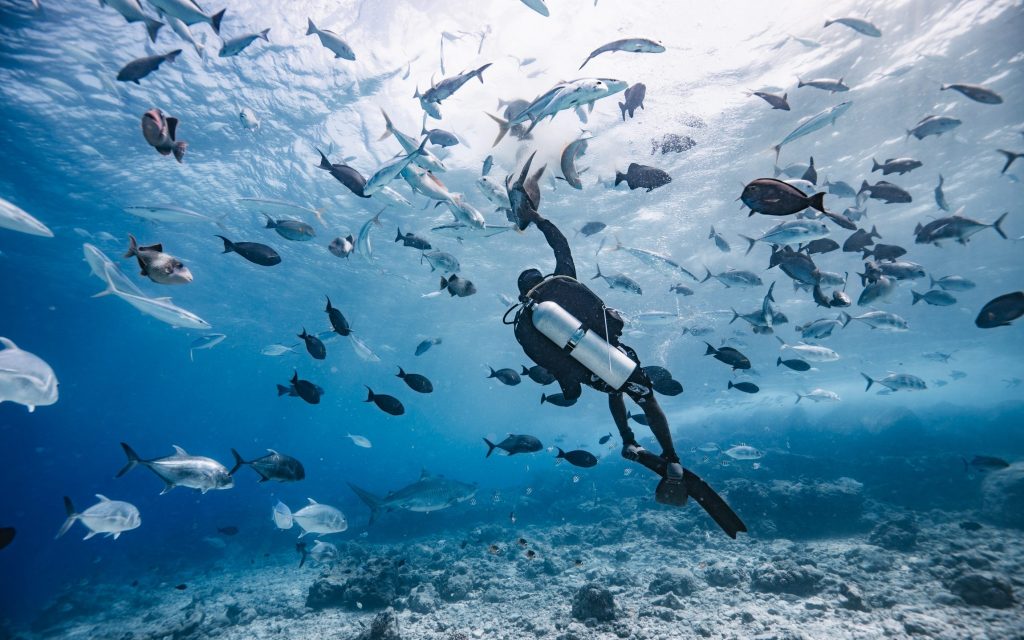 Allocated Tiger Shark Dive Times
To make certain that Tiger Harbour is not overcrowded and safety compromised, every dive center is allocated a specific 30 minute time slot each day. It is important that divers are on time for tiger shark dives and respect each dive centers' scheduled timings. Divers are informed in advance on timings to be on the boat for tiger shark dives. Should divers be late, the dive will proceed without them.
Tiger Shark Safety Diver Course
We strive to not only provide the best shark diving experience but also an educational one. Divers bring home not only great shark diving memories but also a better knowledge about sharks and our marine life. We strongly advocate that the more we are able to share knowledge about sharks, the better we are able to understand these highly misunderstood apex predators.
With these reasons, Pelagic Divers Fuvahmulah has created a tiger shark speciality dive course with PADI and has been offering this since November 2022. The course is for Advanced Open Water and above certified divers that are interested in learning more about diving safely with tiger sharks. The course allows our instructors to share and educate divers on the details of Fuvahmulah tiger shark behaviour, identify resident tiger sharks, how to observe and interact safely and sustainably with the tiger sharks.
Education and Awareness of Tiger Sharks
It is always the unknown that causes fear and misconceptions. We strongly believe that the more we are able to share and expand our knowledge, the deeper an understanding we will have.
As such, we have a marine biologist as part of our team that is tasked in collecting data of the tiger sharks in Fuvahmulah and to expand the current tiger shark identification project. To date, we have collectively identified just over 240 individuals from one dive site. We have also deployed new non-intrusive techniques to identify tiger sharks to observe their individual behaviour. As a result, we are learning more about our resident tiger sharks and are even more attune to when they have a change in their ways.
We host a weekly shark presentation, Tiger Tuesdays, that is open to anyone on the island. The objective of this is to provide a space for us and guests to share more about tiger sharks. The presentation is conducted by our marine biologist which provides guests an opportunity to share or ask questions that they may have about sharks.
FREQUENTLY ASKED QUESTIONS
Is Fuvahmulah tiger shark diving safe?
In general, Fuvahmulah tiger shark diving is safe. As with any scuba diving, each dive has its own risk. Divers need to remember to always follow the instructions for the dive guides above and in the water. It is also important to always respect the environment and the marine life that you are diving with, especially with sharks.
Have there been shark attacks in Fuvahmulah?
There have not been any shark attacks in Fuvahmulah. We follow a strict list of shark diving safety procedures to ensure a safe dive as possible.
Can anyone go and dive with tiger sharks in Fuvahmulah?
We only take certified divers to scuba dive with tiger sharks in Fuvahmulah. If a non certified diver is interested in doing a tiger shark dive with us, we are able to first do an Open Water course with. After successfully completing the course, we will then take the diver for tiger shark dives.
Do you hand feed the tiger sharks in Fuvahmulah?
We do not hand feed tiger sharks in Fuvahmulah. However, the dives are baited but it is important to note that this practice has been done for generations of fishermen in Fuvahmulah. Prior to the construction of the harbour and fish market, fishermen used to clean their catch of the day and discard any fish parts into the water. Tiger sharks knew to gather around these fishing boats to then eat these fish wastes.