FUVAHMULAH
ISLAND IN THE MALDIVES
Fuvahmulah takes its name after the areca nut palm, Fuvah, in the local Dhivehi language. Located in the southern region of Maldives, Fuvahmulah has a population of roughly 13,000 inhabitants and is often described as one of the most beautiful Maldivian islands.
The island is divided into 8 municipal districts with its main economic revenue being tourism, fishing and agriculture. Fuvahmulah boasts lush vegetation comprising of coconut palms, Malabar plums, taro fields, and an abundant growth of mango trees.
Fuvahmulah started gaining interest of tourists as a shark diving destination around 2017. Tourism is relatively new in Fuvahmulah compared to other islands in the Maldives. As such, the island still possesses the charm and warmth of the local community with some local customs still being practiced.
Little history has been documented of Fuvahmulah and very few historical monuments are left on the island, namely Gemmisky and Havitta.
Havitta is the stupa remains of a Buddhist temple that was historically located in the Dhadimagu ward of the island, now annexed to Hoadhadu. Pre-Islamic period,  Dhadimagu was the epicenter of the Buddhist community, making it the last island division to have accepted Islam. Upon the conversion to Islam, the community of Dhadimagu covered Havitta under a mound of earth. One of the temples nearby was then converted into the first mosque on the island – Gemmiskiy. Present day, much of the ruins of Havitta are gone due to excavations done in the early 1980s.
Gemmiskiy, built circa 1300, is the first mosque built in Fuvahmulah after the conversion to Islam and is also the oldest in the Maldives. The mosque still stands today and was built using coral stones and has two wells. An ancient grave rests within the mosque's compound and it is believed that it is where Addu Meedhoo Abu Bakr Naib Kaleygefaanu, an Islamic leader and who built the mosque, is buried. It is now tradition that the local community specifically gathers at Gemmiskiy twice a year for their Eid prayers.
Fuvahmulah was once part of the United Suvadive Republic, a breakaway state of the Republic of Maldives. In the post war era, tensions between the Southern Atolls and the Central Government Fuvahmulah rose which resulted in a breakaway. The short lived breakaway state lasted from 1958 to 1963 and was made up of the southernmost atolls of Maldives – Huvadhu, Fuvahmulah and Addu.
Fuvahmulah is almost 500 km south of Male, the capital city of Maldives and is a mere 33 km from the Equator. Measuring roughly 4.5 km in length and 1.2 km across, the island is the third largest island of the archipelago. Fuvahmulah is uniquely the only one island atoll in Maldives, and is surrounded by deep oceans. Unlike other Maldives islands, Fuvahmulah lacks a lagoon and is susceptible to large ocean swells. 
In ancient times, it is known that the southern end of Fuvahmulah had a small islet which had a saltwater lagoon forming a natural harbour. Over time, the channel connecting the lagoon closed because of massive coral, making the center of the island lower compared to the edges. The inner lagoon has lost its saltiness and is today known for its two freshwater lakes, Dhadimagi Kilhi and Bandaara Kilhi. The lakes are surrounded by marshlands which are mainly dense vegetation of ferns, reed and taro fields.
Fuvahmulah's underwater topography is distinct with a submerged reef stretching to about 3 km towards the South East direction. Distant from any landmasses, the waters that surround the island are from anywhere between 5 m to over 2000 m. For this reason, the island receives nutrient rich ocean currents creating the ideal environment for a cleaning station and nursery for a diverse range of pelagic fish.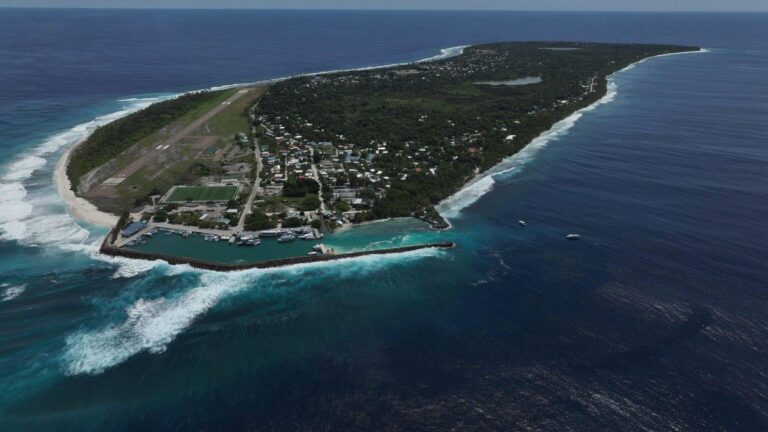 The island has its own domestic airport and there are currently 2 daily flights between Male and Fuvahmulah, operated by Maldivian Aero.
Fuvahmulah is also accessible by speedboat ferry between Feydhoo Harbour, in Addu, and Fuvahmulah. Addu is the southernmost atoll in the Maldives and is about 1 hour 15 minutes by the speedboat ferry which operates daily, except Fridays.
On the island, our dive packages will include daily dive pick up and drop off between the hotel and the dive center. However, motorcycles and mopeds are available for rent if divers would like to explore the island after dives. It is the best way to discover the little corners and local island life.
More on how to get to Fuvahmulah.
SCUBA DIVING IN FUVAHMULAH
Fuvahmulah, also known as Maldives' shark island, is possibly ranking as one of the best shark diving destinations in the world. The island's unique underwater topography has a submerged reef extending deep towards the ocean floor. As a result, this makes the island and its surrounding waters home to a rare combination of pelagic life.
Fuvahmulah is a scuba diving haven for oceanic mega fauna like threshers, oceanic mantas and whale sharks. Additionally, divers may come upon gigantic schools of fish that are less commonly seen elsewhere in the country. The island, however, is most famous for its resident tiger sharks and divers are able to observe them everyday, throughout the year.
View our guide on scuba diving in Fuvahmulah, Maldives.
SNORKELING & FREE DIVING IN FUVAHMULAH
Although Fuvahmulah dive sites are deep and are known for medium to strong currents, snorkeling or free diving in Fuvahmulah is possible. For these experiences, we assign extra guides at the surface for safety to watch out for boat movements and possible shark sightings.
Divers have the option to add on to their scuba diving packages with snorkeling at the reef, free diving experience at Tiger Harbour as well as an offshore excursion for possibilities of encountering oceanic white tip sharks.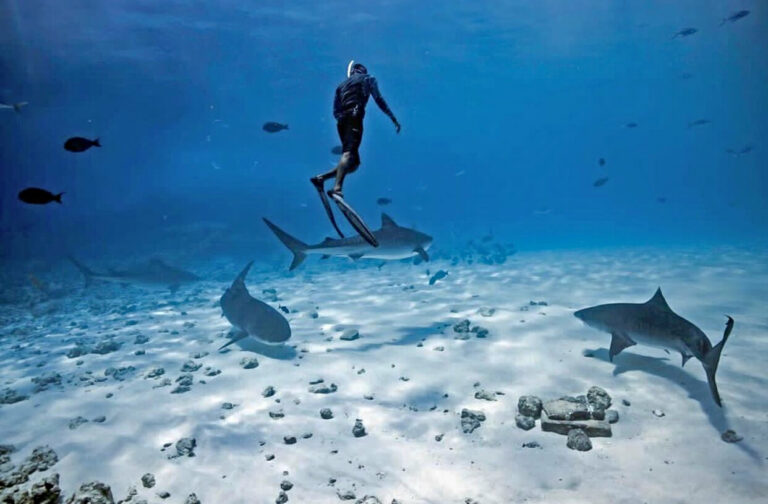 For the best shark diving in Fuvahmulah, our all-inclusive Maldives dive packages cover you from domestic flights to accommodations. Our one stop solution will handle your domestic flight bookings between Male and Fuvahmulah, accommodation with meals, daily diving and dive pick up/drop off between the hotel and dive center. You'll just need to determine your travel dates and book your international flight tickets, we'll take care of the rest. 
Due to the travel duration required to reach Fuvahmulah, we usually recommend divers to book a 5 night package to get a good number of dives. However, if you do not find a package suited to your travel needs, we'll be more than happy to customize one for you.
PLACES TO STAY IN FUVAHMULAH
Our Fuvahmulah dive packages include accommodation and we primarily book our divers at Ataraxis Grand & Spa, depending on their availability.
We also book divers at Maa Thundi which is next to Ataraxis Grand & Spa. Both hotels are less than a 5 minute walk to Thundi beach and is the best spot for breathtaking Maldivian sunsets. The hotels are also located near a very popular restaurant in Fuvahmulah, Cool Banana, for more dining choices.
Fuvahmulah has many other accommodation options that divers can consider as well.
BEST RESTAURANTS IN FUVAHMULAH
Maldivian cuisine reflects the nation's rich cultural heritage and its close connection to the sea. The primary ingredient in many traditional Maldivian dishes is fresh fish, particularly tuna. Along with tuna, Maldivian staple ingredients include, roshi – a warm thin flatbread, taro, sweet potato, breadfruit and rice.
There are plenty of cafes, restaurants and small local eateries that offer a variety of dishes, including traditional local meals and international favourites.
Here's our list of best restaurants in Fuvahmulah.
OTHER ACTIVITIES TO DO IN FUVAHMULAH
Fuvahmulah is a diver's haven offering amazing dive sites and encounters with some of the most magnificent pelagic species. However, the island also offers many other fun activities to partake in as well.
As a UNESCO Biosphere Reserve since 2020, the island has 2 freshwater lakes that are protected, historical sites dating back to pre-Islamic times and unique beaches that are made of white small pebbles rather than coral grains and amazing surf breaks.
The 2 freshwater lakes in Fuvahmulah are the largest in the Maldives and are home to endemic bird species. Activities such as canoeing, pedal boating, cycling & swimming are available at one of the lakes and the other has the popular mud bath.
We've curated a list of other things to do in Fuvahmulah and all you may need to know when visiting Fuvahmulah.