Things To Do In Fuvahmulah
Explore and check out places to visit in Fuvahmulah.
Natural Fresh Water Lakes
Bandaara Kilhi
Bandaara Kilhi spans across 14 acres with an average depth of 12 feet, the largest freshwater lake in the Maldives. The lake is also the largest freshwater reserve in the country as well. A much bigger wetland area that has the popular mud bath area known as Koda Kilhi surrounds the lake. Take a walk along the boardwalk with a coconut palm thatched hut to view the wetlands and surrounding vegetation.
The wetland area is rich with flora and fauna, including the endemic species Kanbili (White-Breasted Waterhen), Raabol (Maldivian Little Heron) and Maakanaa (Grey Heron). Also seen here in the wetlands is Vali Kukulhu (Moorhen), exclusively found in Fuvahmulah and Iruvai Hudhu (White Heron).
The lake and wetlands is a protected area in Fuvahmulah since 12 June 2012.
Dhadimagi Kilhi
Dhadimagi Kilhi is the second largest freshwater lake in Maldives, spanning over 15 acres with an average depth of 4 feet. Dense vegetation of taro fields, ferns and hao surrounds the lake. Hau are local reeds that the locals use for traditional mat weaving.
Like Bandaara Kilhi, wetlands surround the lake and is home to endemic bird species such as Maakanaa (Grey Heron), Iruvai Hudhu (White Heron) and Raabol (Maldivian Little Heron). Also seen here are Vali Kukulhu (Moorhen), exclusively found in Fuvahmulah and Iruvai Hudhu (White Heron). Seasonal birds such as flamingos, herons and white terns make their way through Dhadimagi Kilhi as well.
Apart from the rich flora and fauna of the wetlands, Fuvahmulah Nature Park is also located here. Locals come here to teach young children how to swim, and enjoy other activities such as canoeing and pedal boating.
As with the neighbouring wetlands, Dhadimagi Kilhi is a protected area in Fuvahmulah since 12 June 2012.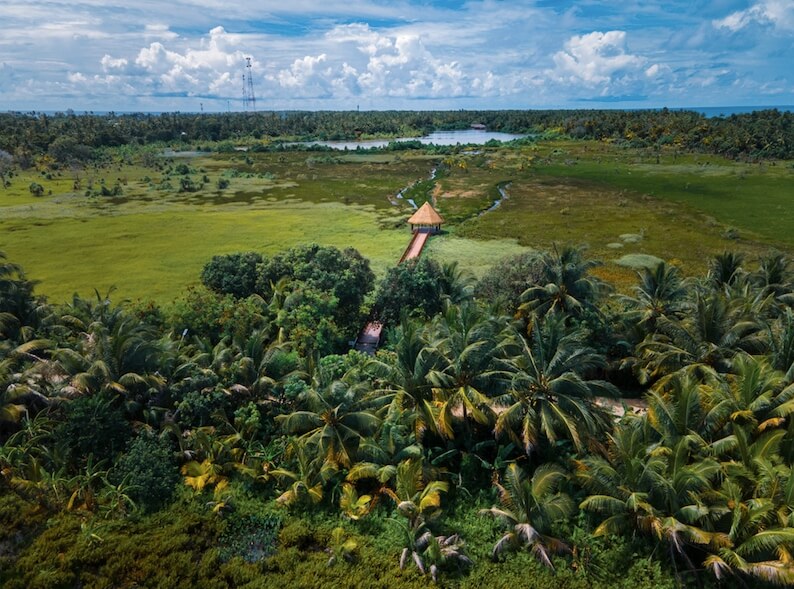 Fuvahmulah's Nature Parks
Koda Kilhi
Koda Kilhi is located within the protected wetland areas of Bandaara Kilhi, a few minutes tracking from the main road. Fuvamulah island is of volcanic origin, making the mud rich in minerals. Koda Kilhi is a popular place among the locals and visitors for a fun and relaxing mud bath experience.
Fuvahmulah Nature Park
Opened in 2018, Fuvahmulah Nature Park is located at Dhadimagi Kilhi. Visitors can enjoy swimming, canoe riding and pedal boating. Bicycle rentals are available at very reasonable price as well. Lush vegetation such as hao, a reed that the locals use in traditional mat weaving, covers the park. Not only hao grows here but also bamboo, coconut palms and ferns. Residents have farm lands within the park that they are using to plant fields of taro.
Fuvahmulah Beaches
Thoondu
Thoondu is located on the North end of the island. Rather than the usual coral grain beaches, Thoondu's beach are small white pebbles instead. A natural phenomenon called Bissaaveli, when natural swimming pools form when the beach moves, occurs at Thoondu. During this time, locals will flock to the beach to swim in these pools. Another unique occurrence at Thoondu is the 'washing machine effect', when waves break on the beach. Visitors to the beach need to be cautious and alert as Fuvahmulah has strong currents. One will definitely not forget the experience being in the 'washing machine effect'. Caution is needed with at the beach as Fuvahmulah is known for its strong currents. Thoondu is also very popular with surfers, both beginners and more experienced. The best season for surfing is during the South West monsoon.
Kalho Akiri Gando
Kalho Akiri Gando or Black Stone Beach is a distinct beach made of large pebbles in shades of black rather than the white sandy beaches of Maldives. However, due to the strong currents and big waves, it is not ideal for swimming here. Located behind the airport, entry requires prior approval from the airport officials.
Rasge Fanno
In the early days, Rasge Fanno was the main landing beach, prior to the construction of the current Fuvahmulah harbour. The local community now uses it is as a swimming area. Furthermore, it is not a sandy beach but consists of large pebbles instead.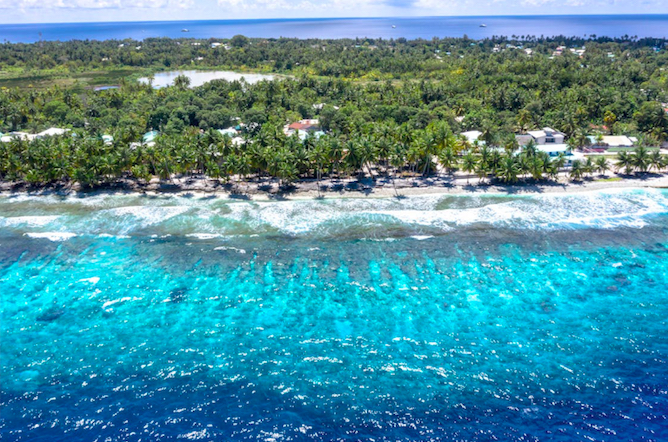 Historical Mosques Of Fuvahmulah
Gemmiskiy
Dhandimagu was the last ward in Fuvahmulah that accepted Islam. Upon conversion to Islam, one of the temples near Havitta was converted into a mosque – Gemmiskiy. This is the first mosque built in Fuvahmulah, post-Buddhist era. The tomb of Addu Meedhoo Abu Bakr Naib Kaleygefaanu, who built the mosque, is said to be within the mosque compounds. There is a rectangular well and a veu (big communal well) within the mosque area. They are famous for its refreshing waters and people still drink from it today. According to legend, whomever drinks from the well will return to Fuvahmulah and the island will have special place in their heart. Although no longer distinguishable, the waters from the four corners of the well tastes different according to folklore.
Keydere Miskiy
Built in the 1550s, Keydere Miskiy is one of the older mosques in Fuvahmulah. It is located on the eastern side of the island. Construction of the mosque was by interlocking coral stones, known as Hiriga a local building method. It had a large rectangular bath well that was cut into the bedrock. The bath was later filled with soil and a smaller well built at the center of it. The cemetery at the mosque also has early gravestones that were carved from coral stone.
Other Places To Visit In Fuvahmulah
Havitta
Said to be the oldest ruins on the island, Havitta is the remains of a Buddhist stupa. Located in the Dhandimagu ward, North East of Fuvahmulah, it was the center of the Buddhist community pre-Islamic period. In its prime, the stupa stood at least 40 feet in height. Unfortunately due to excavation in the early 1980s, the stupa lost majority of its shape. Majority of what remains now is a mound of earth although in some parts, the original stones are still visible.
Vasho Veu
Vasho Veu, literally Big Round Well, is located along the main road near the airport. This well used to serve the community in olden days and is the last few remaining ones on the island. People still visit the well to watch and feed the fishes but it is no longer a water source.
Vali Fanno
Enjoy some fresh kurumba – coconuts, and hedhika – light snacks, at Vali Fanno, a beach side that is right next to the main road. The area also has barbecue grills for visitors to prepare their own barbecue.
Get to know more about Fuvahmulah here.
Frequently Asked Questions
What other things are there to do in Fuvahmulah?
There are plenty of other things to do in Fuvahmulah. The island has two freshwater lakes that visitors can go to. At Dhadimagi Kilhi, a freshwater lake, there are activities such as swimming, canoeing, pedal boating and cycling to enjoy. The popular mud bath at Koda Kilhi is located in the other freshwater lake area called Bandaara Kilhi.
Is there a bikini beach in Fuvahmulah?
There is no bikini beach in Fuvahmulah. It is a local Muslim community where local cultures are practiced. There are a few cultural practices that visitors should take note of when on the island. For males, it is preferable to wear a shirt and ensure shorts are always worn whenever in public spaces. For females, short sleeved tops and shorts are acceptable. However, do ensure that tops are not see through or too large that it exposes the body, while shorts must not be too small and tight. Avoid wearing bikinis in public and at the local beach areas.
Are there motorcycles or mopeds for rent in Fuvahmulah?
Yes, there are motorcycles and mopeds for rent in Fuvahmulah. We would also suggest renting a motorbike or moped when on the island as visitors would be able to explore more of the island in the evenings.