Our Scuba Diving Guide Ratio
Based on our collective diving experiences and principles, we operate on a 1:4 guide to diver ratio. We also limit to a maximum of 12 diving guests on our dive boat. This is to ensure a safe diving experience in Fuvahmulah for our guests.
Fuvahmulah Diving With Locals
Pelagic Divers Fuvahmulah is a dive center with all local owners and directors, 100% locally owned. Not only that but we have an all-Maldivian team of dive guides and instructors as well.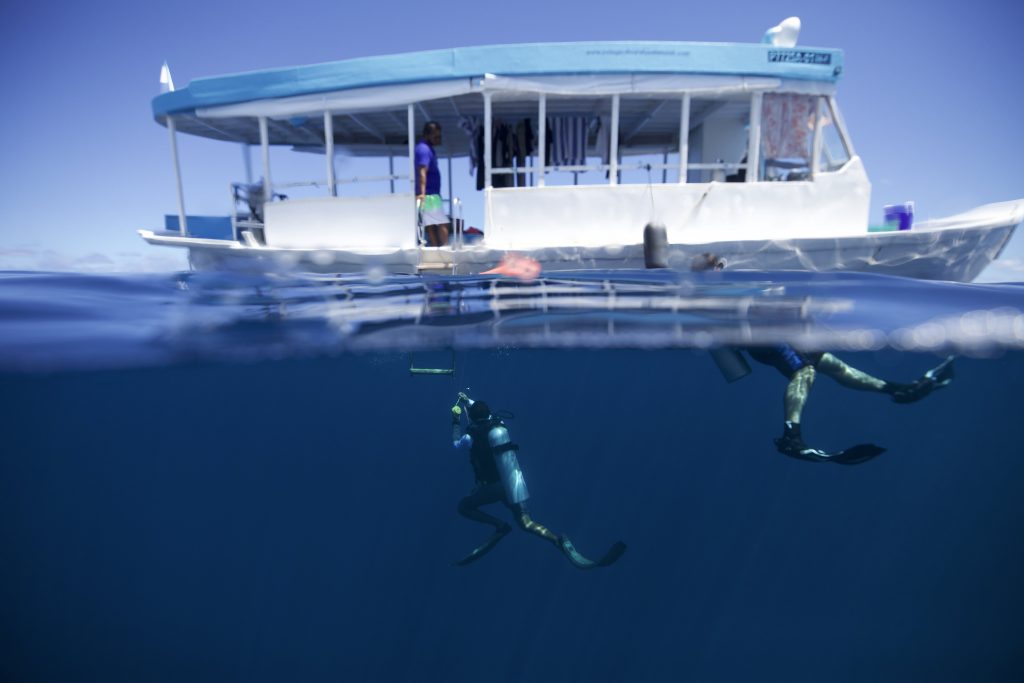 Highly Experienced Dive Team
Our team of guides are all certified Instructors and Dive Masters with over 40 years of collective dive experience. Majority of our guides are from Fuvahmulah island itself.
Small Group Dives
Because we organise a maximum of 12 guest divers per boat, we are providing each guest more focus. This results in a better-personalised experiences especially when shark diving in Fuvahmulah.
Fuvahmulah Shark Diving Safety Trained
Shark diving safety experts, Ocean Ramsey & Juan Oliphant of One Ocean Diving, have trained our instructors and guides. The team is always on alert during dives to identify and monitor the sharks' behaviour. With this in mind, the team is ready to take precautionary measures if needed.
Read more on the safety of tiger shark diving.
Frequently Asked Questions
Do you do group diving in Fuvahmulah?
Yes, we do group diving in Fuvahmulah but we keep to small groups.
How many divers do you have in the boat when diving in Fuvahmulah?
We have 12 guest divers on a boat when diving in Fuvahmulah. This does not include our dive guides.
How many dive guides do you have when diving in Fuvahmulah?
We have a maximum of 1 dive guide to 4 guest divers when diving in Fuvahmulah. This not only helps to ensure a safer dive but also gives divers a more personalized dive experience.