Pelagic Divers Fuvahmulah and @naturefriendsofmaldives took the decision to sponsor a private research of our Fuvahmulah diving sites. This is the first time conducting a research to survey the biodiversity of our corals and fish that we have. It is important to realize that we must have a greater understanding of our house coral reefs in Maldives. With better knowledge and data, it will allow us to best protect this diverse ecosystem and its inhabitants. We are now at least doing our part to understand and protect the marine life in our house coral reefs in Maldives.
Cherine @cherine.kai, Samantha @samantha.jhowlett and Gaius @gaius.timms from Orcestra, Switzerland, were on a 1.5 month long research trip. The team went on daily dives to collect data on the corals and fish found at Fuvahmulah diving sites. This tedious task finally allows us a clear map of our reef biodiversity. Results of this study will add to the status of Fuvahmulah being a UNESCO Biosphere Reserve.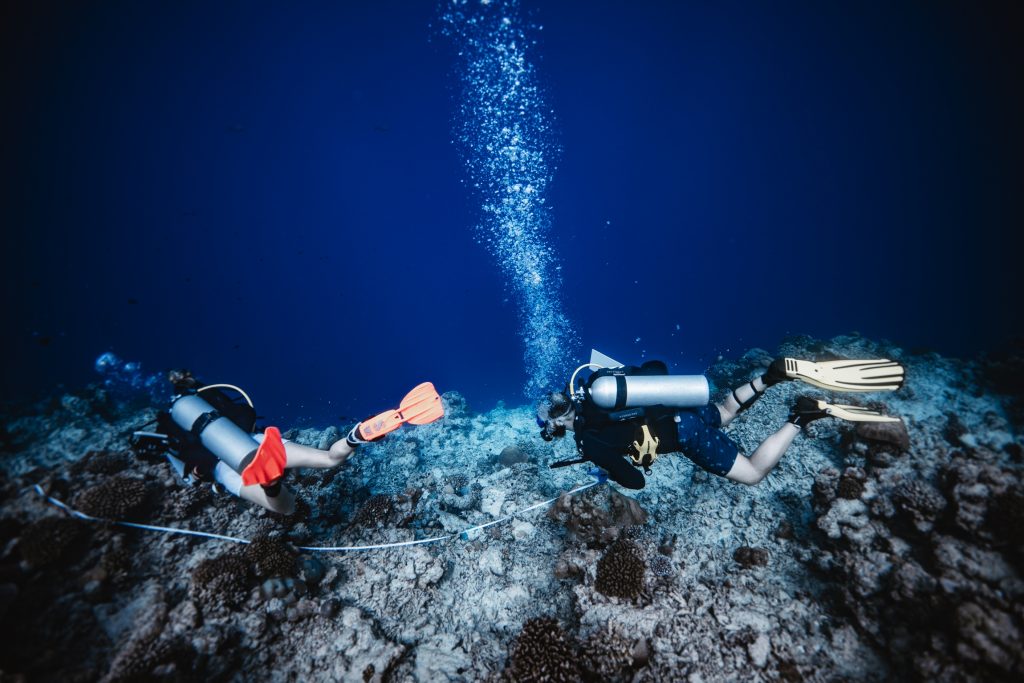 We are hoping that our initiatives will encourage and inspire the local community and the local council. We need to take more sustainable measures in the hope that the treasures of our underwater world are preserved and protected.
Get to know our popular Fuvahmulah dive sites.
Frequently Asked Questions
Does Fuvahmulah have good coral reefs?
Yes, Fuvahmulah has good coral reefs. Based on the coral baseline data research done in December 2021, results show that Fuvahmulah coral reef has more than double the percentage of live coral coverage compared to the whole of Maldives.
What kind of corals are there in Fuvahmulah?
There are both soft and hard coral in Fuvahmulah. One of our popular Fuvahmulah dive site is called Seafan and has beautiful large soft Gorgonia corals.Fuvahmulah coral reefs also has large boulder corals, vast table corals and more.
Are the coral reefs in Fuvahmulah alive?
Yes, the coral reefs in Fuvahmulah are alive. The island has one of the healthiest coral reefs in the Maldives. Although Maldives coral reefs were badly affected by the El Nino in 2016, Fuvahmulah coral reefs were not as badly affected due to the deeper waters surrounding the island.