Amazing Shark Diving in Maldives
Diving enthusiasts from all corners of the world regard the Maldives as a renowned diving destination for its vibrant marine life and pristine coral reefs across the country. As with tourism, diving has long been concentrated in the central atolls of the Maldives. Fuvahmulah is located in the south of the Maldives, just above the equator, offers a one-of-a-kind diving experience in Fuvahmulah. An adventure awaits enthusiastic divers keen on exploring the uncharted reefs of Fuvahmulah.
Fuvahmulah, also known as the Shark Island of Maldives, is possibly ranking as one of the best shark diving destinations in the world. The island's unique underwater topography has a submerged reef extending deep towards the ocean floor. As a result, this makes the island and its surrounding waters home to a rare combination of pelagic life. Fuvahmulah is a scuba diving haven for oceanic mega fauna like threshers, oceanic mantas and whale sharks. Additionally, divers may come upon gigantic schools of fish that are less commonly seen elsewhere in the country. The island, however, is most famous for its resident tiger sharks and divers are able to observe them everyday, throughout the year.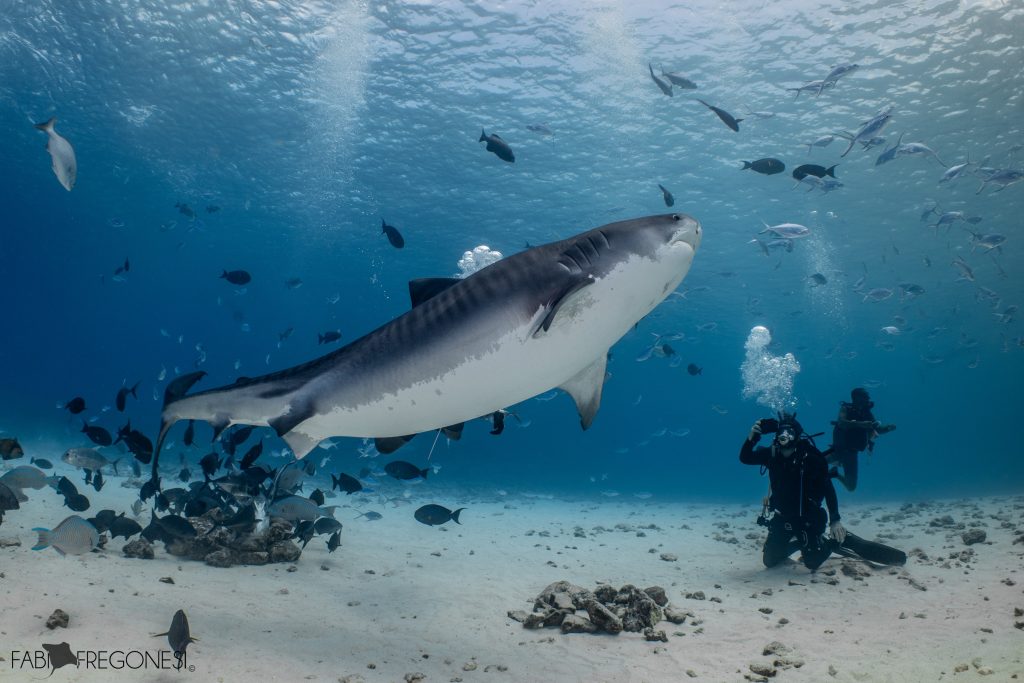 Why Fuvamulah Has Maldives Best Shark Diving
Fuvahmulah is the only one island atoll in Maldives and distant from other landmasses with its unique geography. This distinct feature of Fuvahmulah island brings nutrient rich ocean currents. As a result, a diverse range of pelagic species has an ideal environment for a cleaning station and nursery. Among the vibrant and luscious coral reefs, divers can encounter rays, sharks, and turtles. Once in a while, the surprise such as a mola mola, makes an appearance at the same Fuvahmulah dive site. Because of its rich tapestry of pelagic species on display throughout the year, Fuvahmulah is comparable to the Galapagos and Cocos Island .
Experience the Best Pelagic and Shark Diving in Maldives
There are common sightings of seven types of rare sharks in Fuvahmulah. Unfortunately, they are also among listed as vulnerable or critically endangered. Tiger Harbour is the name of our popular Fuvahmulah dive site. With tiger shark sightings all through the year, it is a guarantee that divers will encounter our resident tiger sharks. The elusive thresher sharks are usually in deeper waters but will come to shallow waters to the cleaning stations. This gives divers one of the best opportunities in the world to catch a glimpse of these shy creatures.
Particularly in the right conditions, you can encounter in awe schools of scalloped hammerhead sharks in the currents. Fuvahmulah is also in the path of migrating whale sharks, the magnificent gentle giants of the ocean. Silver and white tip sharks, grey reef sharks are other shark species that complete the rich ecosystem in these waters. Throughout the year at the cleaning stations, sightings of the Black Oceanic Mantas while scuba diving in Fuvahmulah. Not only that but also during the mating seasons of March to May. Because of their vast congregation, it may be the best diving destination in the world for Black Oceanic Manta. Depending on the season, there are great chances of seeing schools of barracuda, yellowfin tuna, mola mola, sailfish and whales.
Read more on when is the best season to dive in Fuvahmulah.
Follow us on Instagram for amazing videos and photos.
Frequently Asked Questions
What kind of sharks can I see when shark diving in Fuvahmulah?
There are seven types of sharks that divers can see when diving in Fuvahmulah – tiger sharks, oceanic thresher sharks, scalloped hammerhead sharks, whale sharks, silver tip sharks, white tip sharks and grey reef sharks.
When is the best time to go shark diving in Fuvahmulah?
Between January and April is the best time to go shark diving in Fuvahmulah because of water visibility of up to 50-60 meters. Diving in Fuvahmulah the rest of the year is still good but water visibility may only be up to 20-30 meters.
Can I go shark diving in Fuvahmulah with the basic Open Water Diver certification?
Yes, divers can go shark diving in Fuvahmulah with the basic Open Water Diver certification. However, we usually recommend that divers have their Advanced Open Water Diver certification that allows them to dive up to 30 meters in Maldives. That way divers are able to enjoy the dives better as the majority of the pelagic sightings are in deeper water in Fuvahmulah. If a diver would like to do their Advanced Open Water Diver certification, we can customize the dive & stay package to include the course as well.