Certified Diving in Fuvahmulah
Did you know that your diving experience in Fuvahmulah will vary depending on the dive certifications, and within it, dive certification levels that you hold? Fuvahmulah is one of the best places for diving, bringing in diving enthusiasts from all over the world. What the majority of these divers have in common is that they are all certified, allowing them to dive deeper into the ocean thus enjoying the underwater treasures here in Fuvahmulah. Keen to experience the same? Let's explore ways to get you the right dive certifications!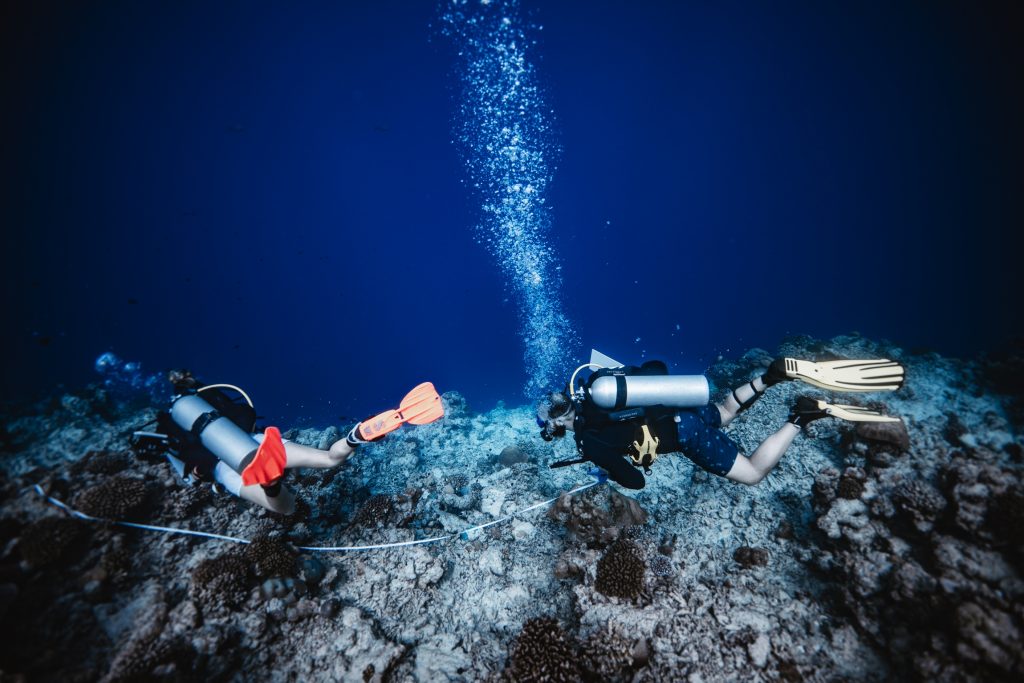 The Importance of Diving Certifications and Dive Certification Levels
While diving is an extremely rewarding activity, the importance of being certified cannot be understated. Being certified not only ensures your own safety but also prepares you for different scenarios as well as you gain valuable knowledge.
Plus being certified will allow you to dive further underwater taking your diving adventure to the next level. It would be a shame to miss out on that opportunity!
Different Dive Certifications
There are a variety of dive certifications that you can do. We have broken down the different types into two —recreational and professional — that will help decide which path you would like to take.
Recreational Dive Certifications
PADI Scuba Diver or Junior PADI Scuba Diver
The PADI Scuba Diver certificate is perfect for those who are looking to start and do not have a lot of time. You will acquire the necessary knowledge that will allow you to dive to a maximum depth of 12m (40 ft). For this certificate, you will always be accompanied by a professional diver.
Open Water Diver (OWD) or Junior Open Water Diver
Completing the OWD course allows you to become an independently certified diver meaning you can choose your dive partner or do solo diving. The depth limitations at this level are 18m (59 ft) for adults and 12m (40 ft) for juniors.
Advanced Open Water Diver (AOWD)
This specific diving certification will allow you to expand your knowledge in scuba diving whilst also improving your experience. Being AOWD certified will also allow you to dive up to 30m (100 ft).
Scuba Diving Certifications for Rescue Divers
This special Rescue Diver course will allow you to dive in a safe manner that prevents problems and you would be capable of dealing with emergencies should they occur.
Master Scuba Diver
This diving certificate by PADI will allow you to explore a variety of speciality courses and it basically is a combination of all of the above!
Professional Diver Certificates
Dive Master
Being a certified Dive Master will allow you to work in the diving industry and you can for example help Dive Instructors during their classes.
Assistant Instructors
When you are certified as an Assistant Instructor, you will be eligible to give theoretical classes to future divers during their training.
Open Water Scuba Instructor (OWSI)
The OWSI course is highly recommended for those who want to become a Dive Instructor. Upon successful completion, you are eligible to train and grant different diving certifications to others.
Master Scuba Diver Trainer (MSDT)
This course can only be completed by PADI Instructors who have certified more than 25 divers and have completed at least five PADI Speciality Instructor courses.
Instructor Development Course Staff Instructor (IDC)
Being an IDC Staff Instructor allows you to teach new instructors.
Master Scuba Instructor
This diving certificate will allow you to be recognized as an elite diving instructor. To be part of the elite you would need to have issued 150 PADI certifications of different levels, taught 10 "Emergency First Response" courses as well as participated in 3 PADI seminars.
Course Director
Last but not least, the course directors are the teachers of the PADI Instructor Development Courses. Being a Course Director allows you to be in charge of training future diving instructors.
Diving In Fuvahmulah With Us
We offer a variety of diving courses that will leave you with an experience you will always remember! Check out some of our programs below:
Bubble Maker
Scuba Diver Upgrade
Open Water
Advanced Open Water
Fuvahmulah Tiger Shark Safety Diver (To partake in this course, you will first need to be Advanced Open Water certified. This means you are certified to dive up to 30 metres. At Pelagic Divers Fuvahmulah, we offer this dive course and dive certification. You can find more information here.)
Emergency First Responder (EFR)
Rescue Diver
Scuba Refresher
Referral Open Water Dives
Referral Confined Water
Dive Course Pool Sessions
You can explore each course in more detail on our website.
Please Note: Pelagic Divers Fuvahmulah wants you to have the best diving experience. To do that, we prefer you to be certified as a diver before you dive here in Fuvahmulah. Some of our courses such as diving in Tiger Harbour require you to have a valid diving certificate or at least an intermediate dive certification level or above.
Let's Get Certified!
Diving in Fuvahmulah is an experience unlike anything else. Don't miss out on the beauty of Fuvahmulah as a result of not having the right dive certifications. There are a variety of dive certifications out there for you to take and complete so you are not short of options! Whether you are just starting out in the world of diving or a master looking to hone his skill set, there is a course for everyone. Get your dive certifications and explore the ocean with us today!
Frequently Asked Questions
Do I need experience to go scuba diving in Fuvahmulah?
Yes, to go scuba diving in Fuvahmulah, we highly recommend that you are a certified diver. The waters surrounding Fuvahmulah are deep and the island is known for medium to strong currents and lots of diving in the blue.
Can I go scuba diving in Fuvahmulah with an Open Water Diver certification?
Yes, you are able to go scuba diving in Fuvahmulah with an Open Water Diver certification. However, we usually suggest divers to have an Advanced Open Water certification which will allow the diver to dive to 30 meters. Fuvahmulah has lots of pelagic species that are usually sighted in deeper waters. Having an Advanced Open Water certification means divers are able to have better encounters with these pelagic species.
Do you offer dive courses in Fuvahmulah?
Yes, we offer dive courses in Fuvahmulah. We are a PADI 5* Dive Center and have instructors as part of the team that will conduct these dive courses. We are also the only dive center to offer the PADI Speciality Fuvahmulah Tiger Shark Diver Course.