Diving in Fuvahmulah Frequently Asked Questions
Few things in the world will get your adrenaline pumping like diving in Fuvahmulah. Fuvahmulah is a diver's paradise. Every dive comes with its own unique experience whether that is diving with Tiger Sharks, Oceanic Manta Rays or other marine life. It is a guaranteed experience of a lifetime! Are you curious about what you need to know about going diving there? Here are some questions we are often asked by guests to help ease your mind about diving in our beautiful waters.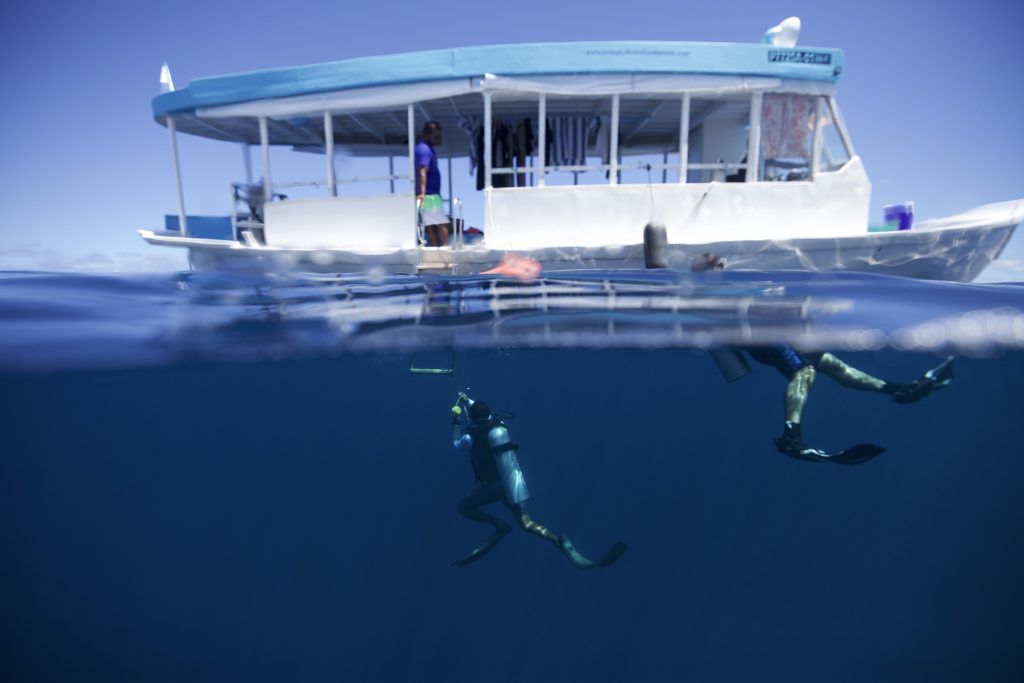 What Is the Water Temperature in Fuvahmulah?
You can expect the water temperature to be between 27°C – 30°C (80 – 86°F). This will go down to roughly 25°C (77°F) in deeper waters for which we recommend a wetsuit for deeper dives if you tend to get cold!
Which Thickness of Wetsuit Do I Need to Use for Diving?
There are a variety of different wetsuit thicknesses made for different conditions. The general consensus is that a thicker suit is needed for colder waters as more millimetres of neoprene are used for insulation.
It is also worth pointing out to consider the intensity of your activity level as this will influence the thickness of your wetsuit. Other factors you have to consider include wind conditions, sun and your personal tolerance for cold.
Considering the water of Fuvahmulah never goes below 25°C (77°F), there is no minimum thickness required. Ultimately, you have to consider the factors above and find the proper size that will make diving in Fuvahmulah comfortable for you!
How To Get to Fuvahmulah?
Fuvahmulah can be reached two ways. The first method is to take a domestic flight from the capital of the Maldives, Malé. There are flights that run daily between Malé and Fuvahmulah. The duration is 1.5 hours but may take up to two hours if the flight includes a stopover.
Another method would be by getting the ferry service between Addu and Fuvahmulah. This speedboat ferry service takes between 45 to 90 minutes depending on the sea conditions and operates daily except for Fridays.
For both options, we at Pelagic Divers Fuvahmulah will assist in arranging for the flight or ferry tickets.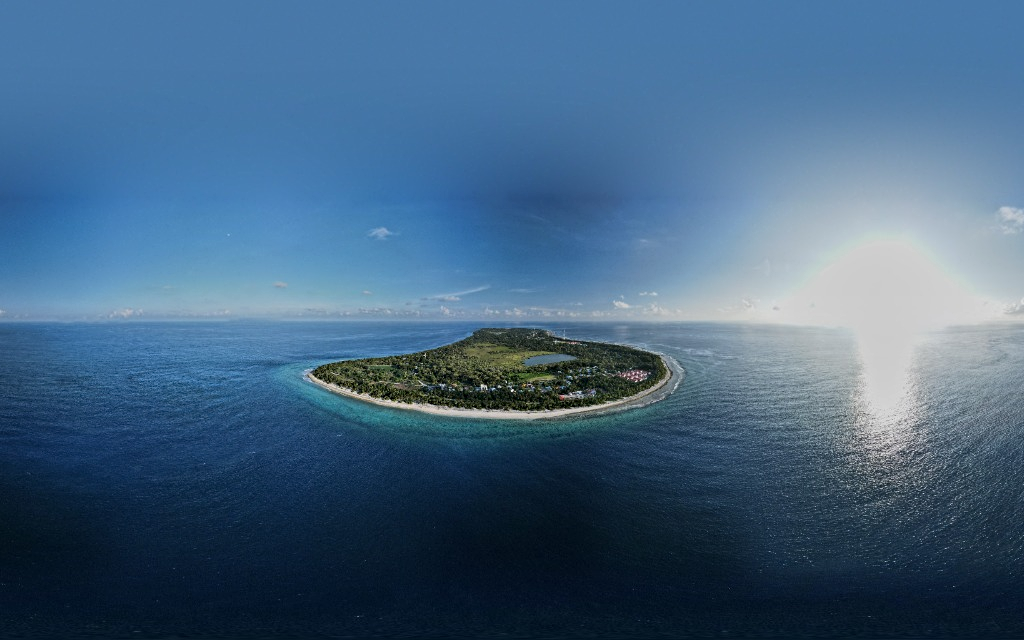 What is Nitrox?
Scuba divers frequently use nitrox, a type of breathing gas, to prolong their dives and lower their risk of developing decompression sickness. Nitrox gas is a combination of Nitrogen and Oxygen. As fancy as it sounds, it can be dangerous if not used appropriately. Pelagic Divers Fuvahmulah uses regular air for their dives and do not dive with Nitrox.
What Is Drift Diving?
Drift diving is a very unique form of diving where instead of diving against the current, you go with the flow of it. With drift diving, the current will carry you along with your dive!
Do I Need Gloves When Diving in Fuvahmulah?
Gloves are optional when scuba diving in Fuvahmulah, depending on the dive site, the environmental factors, and personal preferences. The water temperature is typically warm and tropical year-round, meaning gloves are not typically required for thermal protection.
You can always consult with us on whether gloves are recommended for the specific dive sites and conditions you'll be encountering. We will provide you with more information on the local environment and help you make an informed decision.
Do I Need a Torchlight When Diving in Fuvahmulah?
You won't need a torch when diving in Fuvahmulah as dives are done during the day. However, if you prefer to dive with one, feel free to bring your torch along.
Do I Need Reef Hooks When I Go Diving in Fuvahmulah?
In the diving community, the use of reef hooks is a contentious topic because it has the potential to harm the delicate ecosystem of coral reefs. Reef hook usage is often discouraged in order to safeguard the environment.
Reef hook use is generally discouraged in Fuvahmulah because local dive operators and authorities place a high priority on preserving the area's pristine coral reefs and marine life. For the kind of dives that Pelagic Divers Fuvahmulah takes you on, they are not needed.
Do I Need Diving Insurance?
While diving is an enjoyable activity, there is always a chance of something going wrong. Having diving insurance is one way to ensure that you are ready for any emergencies or accidents that might occur while you are diving.
We do recommend divers to have their diving insurance in place prior to their Fuvahmulah dive trip. In the event of any unforeseen diving incidents, it can offer financial security and peace of mind.
Which Telco Provider Works Best in Fuvahmulah?
There are only two options in Fuvahmulah, Ooredoo and Dhiraagu. We highly recommend Ooredoo. There are a variety of places to buy a tourist SIM card but we suggest buying at the airport as it can be the first thing you sort out when you arrive.
Take Me Diving in Fuvahmulah!
Diving in Fuvahmulah is an adventure unlike anything you will ever experience. Whether you are a diving enthusiast or just getting started, diving here will take your breath away! We want to ensure you have all the information you need before you join us for an experience of a lifetime. We hope that this blog has answered any questions or concerns you may have had and eased your mind about diving in our deep blue waters. Are you ready to start diving in Fuvahmulah? Let's get your adventure started!