Fuvahmulah Tiger Shark Diving
In recent years, Fuvahmulah island has been gaining popularity in being the place for tiger shark diving. Fuvahmulah has guaranteed tiger shark sightings everyday and throughout the year. The diving community in Fuvahmulah has successfully identified over 200 individuals. For this reason, this probably makes Fuvahmulah island having one of the healthiest tiger shark population in the world. In addition, Fuvahmulah has a unique topography that produces distinctive ocean current patterns around the island. This makes it an ideal cleaning station and nursery for an array of marine life, including tiger sharks.
Tiger sharks are considered the second most dangerous shark after the great white. Despite this, there has not been any record of shark attack attacks in Maldives. Tiger sharks are naturally curious and may be drawn to divers. As long as divers remain respectful of these macro predators and the ocean, it is an amazing Fuvahmulah shark diving experience.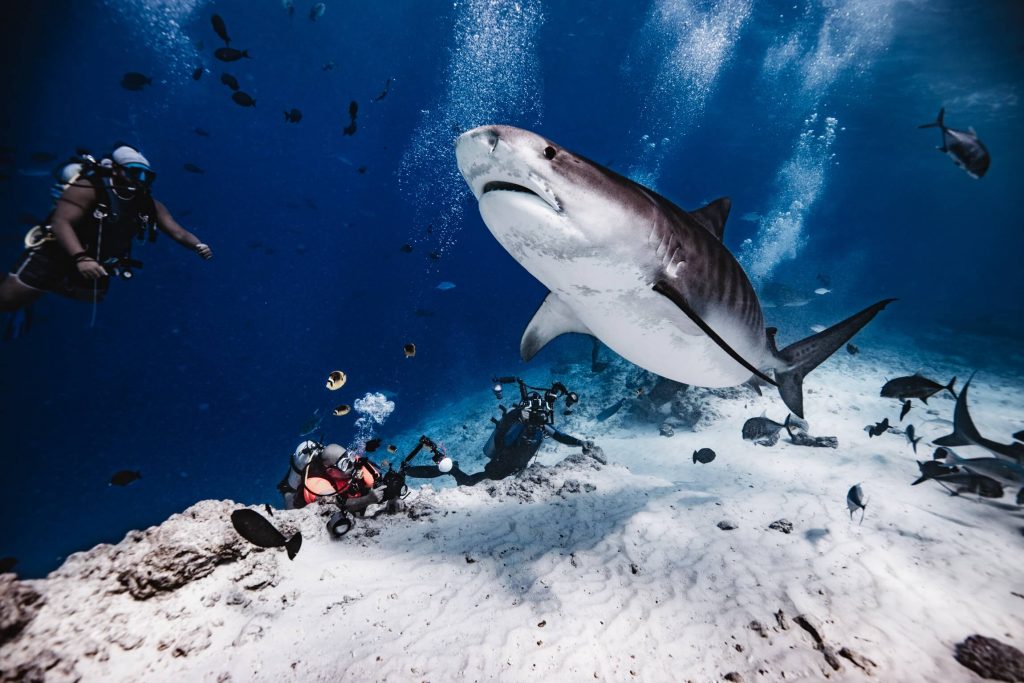 Fuvahmulah – Shark Diving Safety Briefing
Based on our collective diving experiences and principles, we operate on a 1:4 guide to diver ratio. We have a maximum of 12 diving guests per dive boat. This is to provide a safer Maldives shark diving experience for our guests. To best prepare each diver before their first tiger shark dive with us, we conduct an in-depth safety briefing. Our Fuvahmulah shark diving safety briefing covers topics such as the relationship of tiger sharks with the island and the dive plan. The safety briefing also includes what to expect from the tiger sharks, diver behaviour during the dive, our resident tiger sharks and more.
International shark diving safety experts have trained all our instructors and guides. They are always on alert during dives to monitor the sharks' behaviour and take precautionary measures, if needed. There has been zero shark incidents at Pelagic Divers Fuvahmulah. As with any encounter with nature and wildlife, we strongly advice to always follow instructions from our guides at all times to maintain safety.
Visit our blog article Tiger Shark Diving in Fuvahmulah to read more.
Follow us on Instagram for amazing videos and photos.
Frequently Asked Questions
Is tiger shark diving in Maldives safe?
Yes, in general tiger shark diving in Maldives is safe. Here is Fuvahmulah, we have not had an incident and we stick to our safety procedures. It is always important to remember that there is still a risk of diving with sharks as we are entering their environment and territory. Divers are required to always remain respectful and follow instructions from our shark safety guides at all times.
Can anyone go tiger shark diving in Maldives?
No, we do not let anyone go tiger shark diving in Maldives. We require divers to be at minimum a certified Open Water Diver. All divers are also required to dive with a professional dive center and we also advice divers to dive with professionally trained shark diving safety team.
What safety procedures do you have to go tiger shark diving in Maldives?
We follow a list of safety procedures for divers to go tiger shark diving in Maldives. This includes but not limited to – our guide to diver ratio being a minimum of 1 guide to 4 divers, divers need to be a minimum Open Water Diver certified and it is mandatory for all divers, regardless of dive certification, to attend our tiger shark safety dive briefing before their first tiger shark dive with us. Our dive team is also professionally trained by shark safety experts.